As rayon thread is made from a natural fibre, it must be stored correctly to protect it and to extend the life of the threads. The main problems areas are heat, light, moisture and dust.
There are several ways to store your threads and most are valid - with some provisions. The type of storage depends on the number and sizes of your threads and how often you need to access them. This article covers three ways to store threads that I have used successfully and one more I haven't tried. But there are doubtless many more ways and you may already used a better one.
It is important to secure the thread ends before you store the reels. You can tie a know but thread nets are much better and stop the thread from unravelling. I also use self-clinging tape (that sticks only to inself) but, under no circumstances, use sticky tape.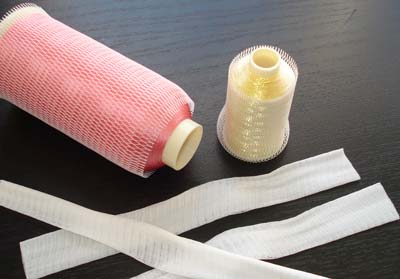 Plastic cases
These are relatively cheap and can hold a good number of threads. They are handy because the cases are portable and you can move them around as you need to. You can put all your pinks/reds in one case and all your greens in another. On the down side, they can be too short for some reels and some don't provide the betst protection against light. This method works best when you have only a small number of threads as it can get pretty exprensive to keep buying more cases. The cases can have one or more compartments.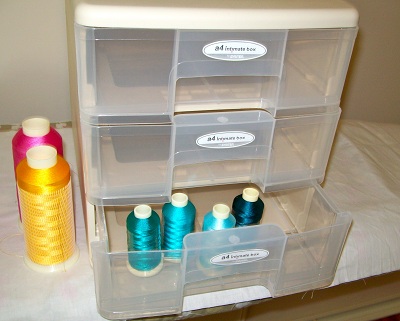 Boxes
A good (and cheap) way is to store your Marathon thread is in the boxes they come in. You can write the colour name on the box to keep them organised and the threads always fit into the box. Plus, the boxes are free! On the downsides, you can't see your threads at a glance, e.g. when you have several boxes of greens.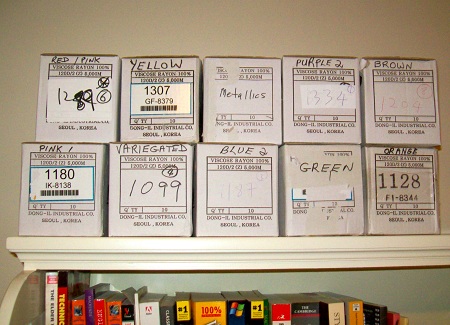 Furniture
Drawers are great for storage as they keep out the elements and the dust but can be expensive to purchase. This option suits embroiderers with a lot of the threads. The big advantage is that drawers hold a lot of threads so all my pinks and reds fit into one drawer and my blues in another - I just have to open one drawer to see all my threads in that colour group.
Furniture can take up to a lot of space so see if it can be incorporated with your sewing table. I use 'table legs' from Ikea that consists of five draweres - two drawers fit the 1000m reels and thread drawers suit the 5,000m reels and general embroidery notions. I use two of these table legs with a tabletop as the stand for my embroidery machine. They are really deep, so hold a lot of threads and essential notions. The drawers come in a flat pack and have to be assembled (always a pain unless you'r gifted in that area) but are easy to move around, if required, as the table legs are not attached to the tabletop. I have a third unit that I place to my right (as I'm right handed) where I place the threads that I'm using in my current project.
This image of the Vika Curry table leg is used with permission from Ikea. Ikea did not provide any assistance (financial or otherwise) for this article.
The drawer don't have to be new - look for second-hand desks and chest of drawers.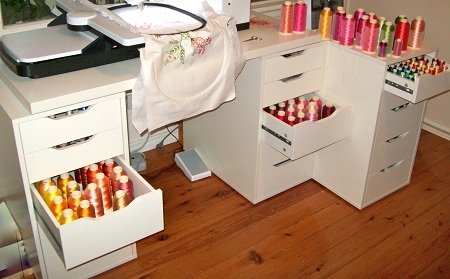 Wooden thread rack
This is the option I have not tried and I don't know if Marathon thread reels fit. It does make the threads easy to see and access but leaves them exposed to heat, light and dust. If you have a thread rack on a wall or stand, keep it out of direct sunlight and cover it when not in use to keep out the dust.

Here are other great tips from Embroidery Library.
By Elaine Raahauge - Business writer and home embroiderer